One of the essential tools in interpersonal relationships is strategic communication. Having a lot of good information, convincing others, building a positive image, motivating people, and many other goals are all based on how we communicate.
In personal relationships, how we use language affects how others see us. Are we aggressive, passive, or assertive in what we say or do? In an organization, an outside factor helps define a culture: what is the company where we live and work?
In the next paragraph, you will learn about the importance of strategic communication and its use in businesses. Continue reading and learn about an essential tool for achieving goals and goals!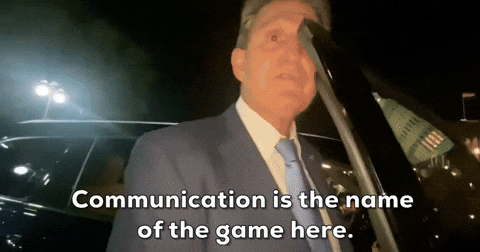 What role does strategic communication play in the business world?
If we want to win at chess, poker, or Monopoly, we must first learn the rules and circumstances before deciding on a long-term strategy.
This is how we'll go about it. We can think of short-term measures to execute the way we choose to achieve our goals, using more efficient tactics and actions, because we have to define the strategy first.
When a company is in trouble, corporate communication will be one-way: transparent and direct to assure employees of their safety. If it's time to grow, it'll be in a different way: inspirational and geared toward sharing a worldview with others, for example.
We'll also notice communication reflexes in the actions of employees and leaders. After all, they must align their plans with the company's plan in professional presentations, sales attempts, project proposals, and so on.
In practice, how does strategic communication work?
A series of planned actions using various language and symbol formats to achieve long-term objectives and goals is referred to as strategic communication.
In terms of language, we'll need to consider the following characteristics:
message;
format (verbal or non-verbal)
recipients;
intended result;
how it will be done;
techniques that can be applied.
In terms of symbols, we investigate what our message's surroundings represent. What message is conveyed by the presentation's format? What's the best way to dress for a meeting? What color should be the most prominent on social media? What symbols and shapes best represent my message?
What are the benefits?
People and organizations benefit from strategic communication in the following ways:
enhances relationships with stakeholders (customers, employees, suppliers, and so on);
creates a brand image for a company or a consumer;
has a more upbeat personal appearance;
facilitates persuasion processes;
confirms fundamental values and assumptions;
clearly exchanges information;
increases the effectiveness of leadership activities.
In practice, we can judge whether the actions we choose for the short term – that is, what we will do today – are relevant or irrelevant if we have a clear strategy.
The naming of our professionals is a good example. Internal customers," "talents," "collaborators," "employees," "workers," "associates," "partners," "members," or "affiliates": keep in mind that each word can be chosen strategically.
What are the elements that make up strategic communication?
We can reflect on its pillars to have more strategic communication. We will understand what knowledge, skills, and attitudes must be learned in practice once we know what needs to be built.
Be aware of your target market.
Communication is available for someone who is usually a business stakeholder. As a result, it's critical to understand your target audience, select the appropriate channels for communicating with them, and anticipate challenges when devising a strategy.
Having a well-defined goal
We don't think strategically if we don't have a goal, leaving the results to chance. We must set goals to create a roadmap that outlines the steps necessary to achieve this goal.
Make a communication plan.
Communicators must have a system in place that allows them to create a plan at any time. This is because we require communication daily and cannot rely on particularly inspired moments to be effective in this area.
Ensure that the message and visual language are in sync.
When planning, the message we want to send and the visual language we use are both important considerations. Both must make sense concerning the proposed goal and serve as the foundation for your communication strategy.
Competency development
It's also critical to hone the skills required for strategic communication. To improve individual and organizational performance, we can learn storytelling and public speaking techniques in addition to soft skills.
Consider these two levels when constructing these pillars: individual and organizational. Beyond an organization's official communications, strategy is required in day-to-day activities such as conversations, presentations, pitches, sales, and cross-sector information exchange.
In our professional lives, strategic communication must be a constant. We must always define our goals and devise the best strategy for achieving them, using the most appropriate message and visual language.